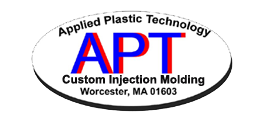 &nbsp&nbsp
Applied Plastic Technology 169 Fremont St. Worcester, MA 01603
Insert Mold Bases
In cases where mold bases are to be done in an adaptable fashion, there is the choice of insert mold bases that allow for swapping of interchangeable inserts to the mold. APT will build your custom molded insert base with the option of threaded insert and other plastic components.
Whenever possible our customers purchase only cavity inserts which fit a common base thus saving substantially on mold costs. We utilize standard MUD bases and custom bases where applicable.
For those who seek a cost effective solution as opposed to a dedicated mold while retaining versatility, APT can help. We also mold custom inserts, threaded inserts, and other plastic components.
More information on MUD frame insert bases