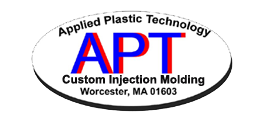 &nbsp&nbsp
Applied Plastic Technology 169 Fremont St. Worcester, MA 01603
Plastic
Applied Plastic works with many different types of Plastic from many different vendors. APT is well known for its work molding clear parts. Our engineering department will work with you to find the optimum material for your project.
ABS - Acetal Acrylic - ASA - Nylon - Polycarbonate - Polyethylene - Polypropylene - Polyester - Polystyrene - TPR - TPU - Most thermoplastic polymers
MatWeb.com
is an online source for injection molding materials information.
Colors
APT will mold in any color you can think of. We stock many colors and can provide custom color matching for your project. If you know the PMS, UN or the RAL value, we can order it and mold it.